Balwyn Pool
Level changes on site present a great opportunity to add interest, and they also help to define spaces giving different zones in your garden a different feel, look or function
Level changes on site present a great opportunity to add interest, and they also help to define spaces giving different zones in your garden a different feel, look or function. Far from a disadvantage, levels in a garden can be a great asset when treated with creativity and a considered approach to the implications on cost and complexity.
The acrylic window incorporated into the design of this modern swimming pool is the perfect solution to the 1.2m high wall required to form the upper terrace. Not only is it a spectacular feature, it creates a link between the interior spaces of the house – particularly the living areas – and the pool itself, which would have otherwise been lost.
Check out the details below of our swimming pool in Balwyn, Melbourne:
Size:
 6.2m long x 4.0m wide
Design:
 Elevated rectangle with internal corner steps, swimout ledge PLUS acrylic window
Depth:
 1.1m to 1.8m
Interior:
 Fully tiled with 50mm x 50mm ceramic tile (dark blue)
Coping:
 500 x 500mm bluestone
Pool Surrounds:
Open sided alfresco pavilion for all weather lounging. Adjacent lounging terrace for sunbathing. Integrated landscape lighting highlights the garden features at night.
Pool Equipment & Features:

 Pentair Pool Pump
Solar Heating
Paramount In-floor Cleaning System
Salt Chlorinator
Acrylic window
LED Lighting
VIEW OUR OTHER ACRYLIC WINDOW POOLS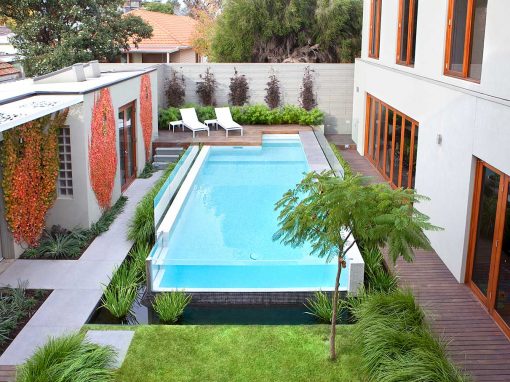 Contact us today to speak to one of our friendly team members about your project.
PH: 9545 3738