camberwell 02 Pool
The most difficult aspect of integrating a pool into a garden is unifying the new with the old so that there is no stark contrast between the two. Here is an example of how this can be done successfully, with the new additions elevating the existing garden beyond its original state.
A modern family home with extensive ground floor glazing provided a great opportunity to make the swimming pool the centrepiece of the garden. Directly visible from the main living areas of the house (kitchen, dining and lounge room) this 6m x 3.8m swimming pool is fully tiled in a Bisazza glass mosaic blend carefully selected by the designer to feature both in the pool itself and on a low, exposed planter box feature that anchors the shallow end of the pool against the garage wall. 
Set into the tiled feature wall are 3 bespoke stainless steel water spouts that add a beautiful dynamic element to the design, creating sound and movement that can be enjoyed both while swimming and viewing the pool from indoors. Above these custom spouts sits a geometric sculpture – 'Untitled 3' – from acclaimed artists Lump Sculpture Studio, created as a one-off size specifically to fit its new home as a focal point of the design.
Often, designed landscapes take some time to grow into maturity and while this example will certainly continue to improve as the plants grow, it's also one of those uncommon examples of an instant transformation that feels resolved and complete the moment it is handed over to the clients to enjoy…looking like it was always meant to be that way.
VIEW OUR OTHER POOLS WITH SPAS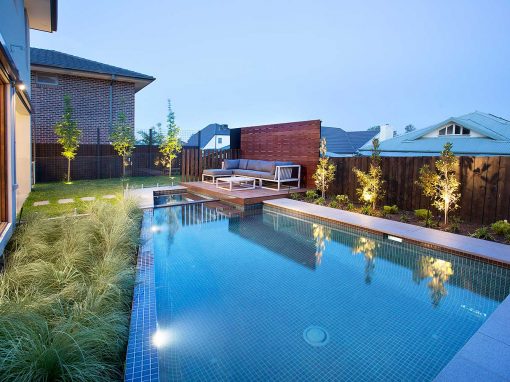 Contact us today to speak to one of our friendly team members about your project.
PH: 9545 3738