Eaglemont Pool
Situated on a corner block atop a hill in Melbourne's inner east, this luxury residence boasts views to the city skyline which sets the scene for the high-end detailing and superior craftsmanship that is demonstrated throughout the entire project.
Nestled into a setback designed into the rear façade of the house, the swimming pool, which incorporates a raised spa with infinity edges on four sides, maximises the space offered in the angled back yard while at the same time keeping in scale and proportion to the building and outdoor entertainment areas.
The way in which this swimming pool and spa have been brought together raises the bar for pool/spa combinations. Set on a shallow swimout, the generously sized 3.0m x 2.0m spa is fully tiled using a dark charcoal 20x20mm glass mosaic tile from the Bisazza range. Completely surrounded by water, the spa is accessed via 3 stepping stones that appear to float across a wide channel.
The overall execution of this project leaves nothing to be desired, with the design of the swimming pool and spa truly complimenting the architecture of house and the ambience and aesthetic of the outdoor spaces.
VIEW OUR OTHER POOLS WITH SPAS POOLS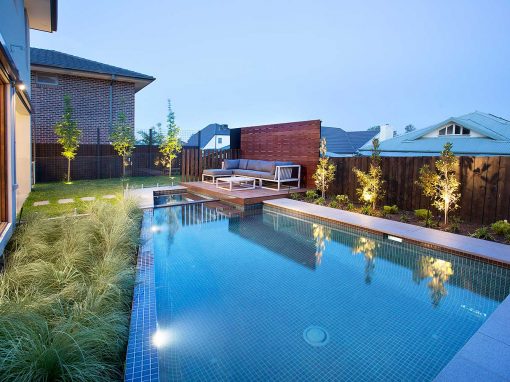 Contact us today to speak to one of our friendly team members about your project.
PH: 9545 3738