Malvern 02 Pool
It is the beautiful combination of innovative swimming pool and spa design that makes this project truly outstanding. Supported by an exceptional level of finish in all aspects of the construction, here is an example of a swimming pool and spa that have been superbly designed, professionally built and now sincerely loved and enjoyed by the clients who commissioned it.
On first impressions, this project has a luxurious level of 'wow' factor – and the standout feature is the crisp black box that, by a trick of the eye and the play of the light, appears to be cantilevered off the edge of this stunning family swimming pool. The residence itself has height, solidity and grandeur, and the scale and proportions of both the swimming pool and the spa have been designed to match.
Taking cues from the building, the colours selected for the mosaic glass tiles in both the swimming pool and spa contrast each other. This reflects the palette of the architecture – stark white walls are punctuated by black window frames and black steel. In the swimming pool, pale blue tiles create a pale blue water colour, giving the space a light and bright feel all year round.
The choice of the almost black glass tile for the spa creates the illusion of depth, even though half the spa's length is only 30cm deep. Strongly reflective, the raised infinity edges of the spa are perfectly level, allowing a uniform sheet of water to cascade over into hidden channels, the pool itself and the swimout ledge and second set of internal pool entry steps.
Stepping zones take you across the water and up a set of floating polished concrete steps that are lit from beneath with LED strip lighting, further enhancing the sculptural qualities of this area of the design and the spa itself. A sheer water curtain, positioned in a raised feature wall built on top of the pool shell, adds a dynamic element of moving water and helps to disguise some traffic noise that can sometimes be heard from the busy main road where this property is situated.
VIEW OUR OTHER POOLS WITH SPAS POOLS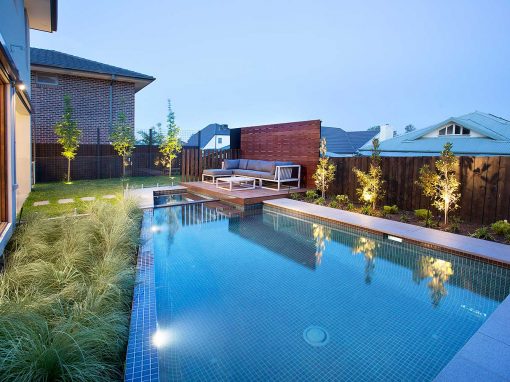 Contact us today to speak to one of our friendly team members about your project.
PH: 9545 3738