mornington
The stunning yellow spa is the hero of the project, designed as a perfect circle with a 360 degree infinity edge falling into a hidden channel and fully tiled in a unique and possibly never-seen-before shade of lemon yellow.
This project has an enviable waterfront location, so from the very outset the client's highest priority was to maximise their views to the water and across Port Phillip Bay. However, they also required privacy from a busy road and highly trafficked footpath so striking a perfect balance between accessing the views and maintaining privacy was key for landscape architect Kate Monk, senior designer at Enkidesign.
The house has strong architectural features, including a bold sweeping curve that encapsulates a second story daybed and surrounds the second story outdoor living alfresco area. A key element of the success of the swimming pool and spa design is how it references and reflects these shapes, so that the project reads cohesively. The design of the outdoor areas is so successful it is as if house and landscape were designed together from the outset.
Creating levels was key to unlocking the potential of this small space. The poolside terrace (formed from in-situ polished concrete) is large enough to relax in the sun while taking in the views of the bay. To reduce the amount of pool fence required and so as not to divide up the garden, a dry moat was created between the pool and the lawn. This opened up an opportunity to create a feature wall in the landscape, which has been tiled in an uncommon Penny Round tile.
Check out the details below of our swimming pool in Mornington on the beautiful Mornington Peninsula:
Size:
6.1m x 4.625m PLUS 2.5m dia. spa
Design:
Unique curved shapes that reflect the architecture of the home are present in the pool & spa. A full length ledge creates refuge and play space.
Depth:
1.2m – 1.7m – 1.5m
Interior:
Fully tiled with 2cm ceramic Penny Round tiles (white & lemon yellow)
Coping:
Polished concrete
Pool Surrounds:
Two poolside lounge areas provide space to relax and soak up the sunshine.
Pool Equipment & Features:

Solar & Gas heated
iAqualink automation
Paramount In-floor Cleaning System
Salt Chlorinator
LED lighting
VIEW OUR OTHER LARGE AND LAP POOLS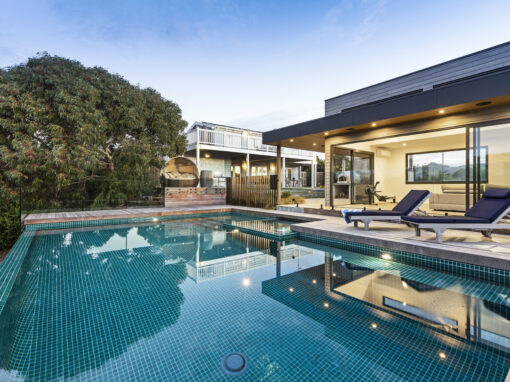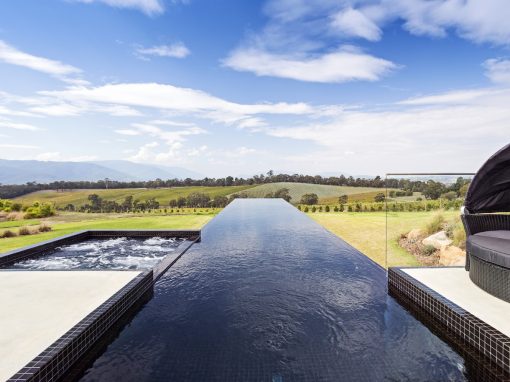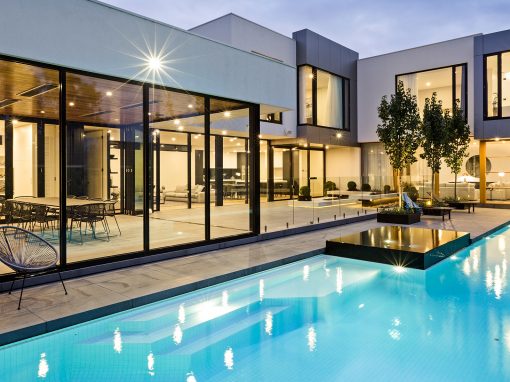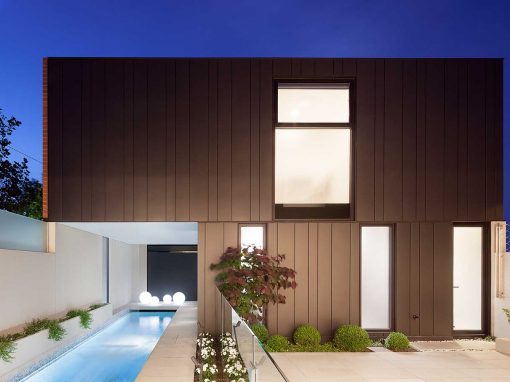 Contact us today to speak to one of our friendly team members about your project.
PH: 9545 3738