Nunawading Pool
This stunning infinity edged swimming pool took home Gold at the 2019 SPASA Victoria Industry Awards, and is a culmination of expertise, skill, creativity and professionalism by Enkipools, Neil Architecture & MCL Construction.
From the moment the project was initiated there was great emphasis placed on creating a swimming pool that was unique on its own merits and would flow beautifully from the house to the outside entertaining areas.
Construction of the 1.4m out-of-ground pool had a high degree of difficulty involving concrete piers, close proximity to boundaries, a feature wall clad in Victorian bluestone built right on the pool shell itself – not to mention the installation of an integrated acrylic window offering views into the water from the home's subterranean gymnasium.
The interior of the swimming pool is tiled in a dramatic ocean blue ceramic mosaic, with the same Victorian bluestone used to clad the face of the infinity wall. Through careful design & a thorough understanding of the regulations, the infinity wall itself creates the pool barrier avoiding the need for any additional fencing.
With a stunning rammed earth wall as a backdrop, the swimming pool sets off the architecture of the home creating a seamless, integrated sense of flow from inside to out.
VIEW OUR OTHER POOLS WITH SPAS POOLS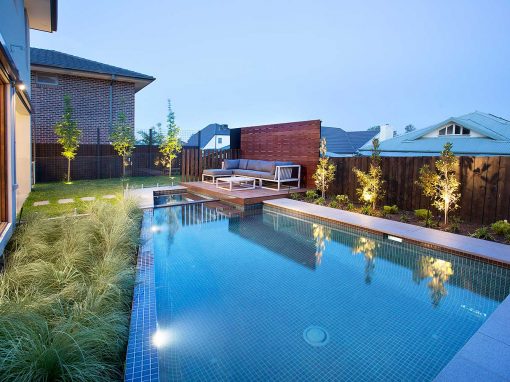 Contact us today to speak to one of our friendly team members about your project.
PH: 9545 3738